events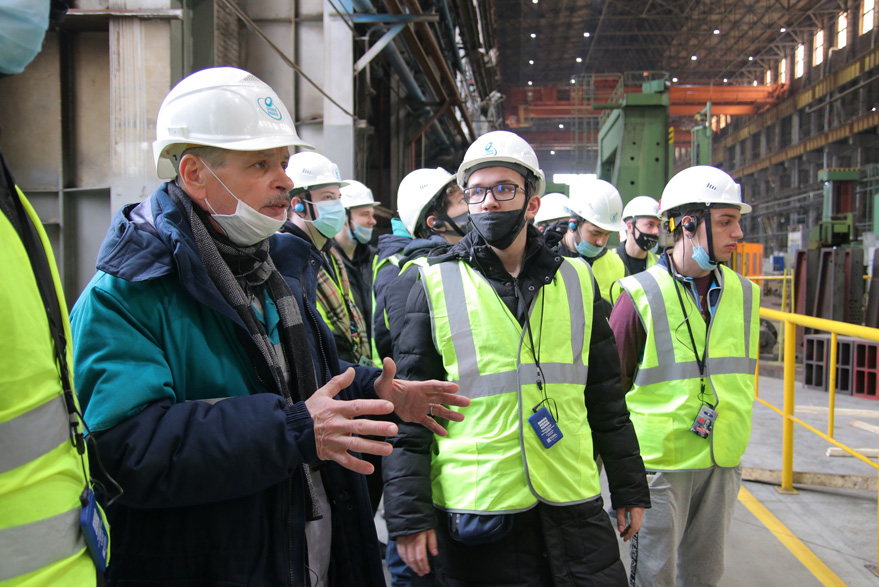 More Than 350 Students of Colleges and Technical Schools Visited Power Machines as Part of the "Week Without Turnstiles"
Power Machines took part in the All-Russian career guidance campaign of the Russian Engineering Union – "Week Without Turnstiles". From April 11 to 14, more than 350 students from St. Petersburg colleges and technical schools visited the company's plants. All event attendees received a detailed safety briefing and were given personal protective equipment.
Students of the Malookhtinsky College, the Technical School of Power Engineering and Metalworking and the Russian College of Traditional Culture were given a tour around the plant Leningradsky Metallichesky Zavod. Future machine operators, tooling engineers and welders visited production workshops, where LMZ personnel introduced them to the processes of steam and hydraulic turbines manufacture.
The Electrosila plant opened its doors to the students of the Electric Machine Engineering College and the Russian College of Traditional Culture. Students studying occupations, that are in-demand at the enterprise, like "CNC machine operator", "Engineer draftsman", "Welding engineering", got acquainted with the manufacturing process of turbine and hydraulic generator equipment.
"Our task is not only to show the production capacities of our enterprises, but also to give students the opportunity to communicate with experienced colleagues, ask questions of interest to craft professionals. We are open to young professionals and are happy to show that employment at Power Machines involves participation in large-scale energy projects, a close-knit team and a rich corporate life. Meetings like these and getting the youngsters acquainted with real-life business processes play an essential role in ensuring the staff continuity," emphasized Elena Solovieva, HR Director of JSC Power Machines.
The all-Russian campaign "Week Without Turnstiles" is a set of events aimed at providing career guidance information about the activities of leading Russian enterprises and promoting professions and occupations that are in demand in industrial production.
All events